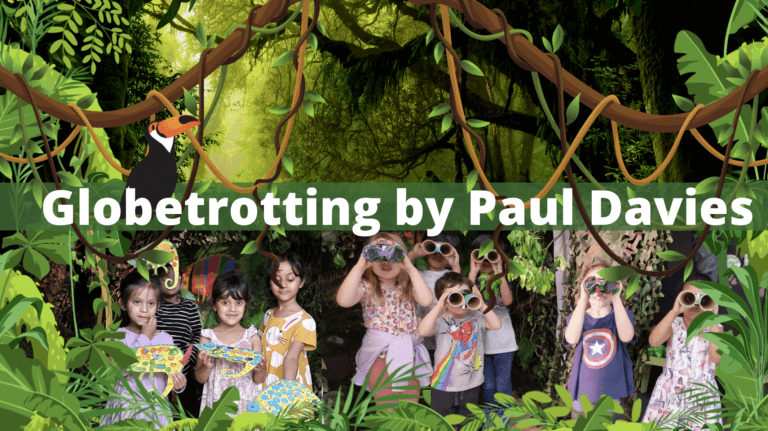 People often come into our building and say" "What's going on here, then?"
It is a simple question, but the answer is not always so straightforward. I mean, there are pictures on the walls, so I suppose I could say we are an art gallery, but today there are sounds coming from the middle of the building – the sounds of the jungle. When my questioner follows me further in the direction of the sounds, they see a riot of ferns and a mountain of moss and "hang on," they say, "that is a lot of sand." "Yes," I say. "About seven tonnes". They repeat the question, but this time they confess that it is "cool" whatever "it" is. We agree, and they head out onto the High Street, satisfied that they know what is going on in this peculiar glass and concrete Tardis of the past. As they leave, an excited buzz of children and adults charge through the doors, waving their Globetrotting passports in the air, keen to know whether they will be chameleons, polar bears, or starfish – to see where they will be and what they will be doing.
It occurs to me in the riot of expectations that now fill the room that this is just about the best thing that we have done. It might help that August has brought its usual rain, and so families are happy to be indoors. And the whole event is free. But each Saturday in August is booked out, and many of the people that have come into the building have never been here before. What more could an improvised art centre do? Probably a lot more, but this is it for now, and we are happy.
It is a shame, I think, that we are only here for another year and a bit – just when we seem to have got the confidence and participation of the people that live in the centre of the city. Art takes time before it become visible – to funders, and to people looking for something to do. Not that our landlords, Coastal Housing, either know or register any interest in our activities. They have their own agenda and are busy with other tenants and other projects. One of these projects is to demolish the building we are currently in. They propose to build a Health and Wellbeing Centre, which I am sure may be needed – although as I listen to the screams of surprise coming from the jungle as Max unexpectedly blasts a chameleon-tongue party-blower, and see the kids' faces as they encounter the upside down trees in the Polar Zone and see the wild dancing next door, I think we might be OK with our own version of happiness and wellbeing – on this side of the High Street.
Paul Davies