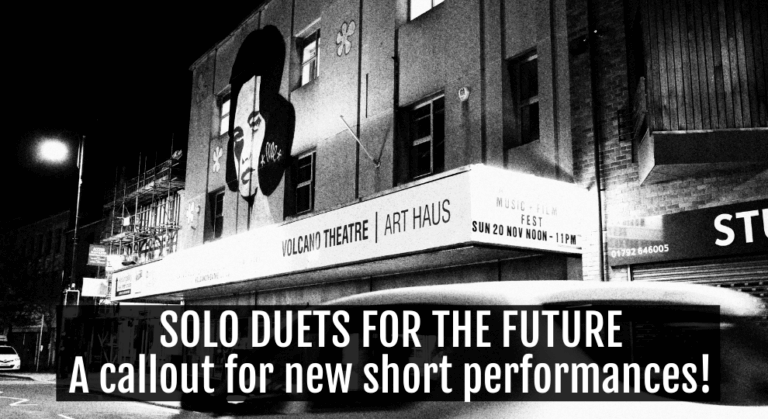 When we think about what kinds of performance might make sense after the pandemic –what stories people want to hear, what they want to see – we will probably come up with many different answers. But the first step must surely be to ask whether people have an appetite for sitting together in small or medium sized dark rooms. How do they feel about returning to the 'Empty Space', and what will happen when they do?
To explore this question, we want to commission and present a series of varied small-scale original performances of approximately 30 minutes in duration. These performances will feature either one or two persons and will be performed in any of the various unusual spaces that can be found in the cavernous former supermarket building of Volcano Theatre in Swansea High Street. We want low-tech, high content performances. By the latter we mean future-orientated content. This could be critically optimistic, or dystopian in the extreme, but there should be a sense of performance as a social act rather than an intervention that begins and ends within the four walls of The Theatre. The short pieces that we are thinking of are of our time, but not defined by it. Performers who graduated just before or during the pandemic, people who have had dynamic ideas of dialogue and communication (whatever that form takes) – this project might be for you. We want work that points to the future, rather than that which dissects the past or fits within an already existing literary/theatrical canon.
I'M INTERESTED – WHAT DO I DO?
Submit an idea or outline for the performance that you want to create and deliver, your availability, and the space in which you would like to perform it. We want people to perform work they create themselves, not to send us a playscript.
We are looking for NEW work to be created and performed within the commission period. Pieces already performed elsewhere (online or live), work that has already undergone R&D, or revivals of dormant scripts are not eligible on this occasion.
We are looking to make five or six of these mini commissions over the season. You may submit an idea at any time from 14 February onwards. Submissions will remain open until all the awards have been made. We aim to respond to all submissions within one week.
Each commission will be two weeks long, including development/rehearsal and performance. Optional mentoring/advice sessions with Volcano's Artistic Director are included.
Submit your idea via this form. You may describe your idea in writing and/or upload a short video telling us about it. You may make a submission in English or Welsh.
The artist fee for a solo commission is £1500. Submissions may also be made for duets (fees will be increased as appropriate). We envisage that most of the awards will be solo pieces. The work must be rehearsed to a professional standard for a public audience during the fortnight. It is OK if the creator sees it as a work-in-progress as this stage or intends to develop it further beyond the duration of the project. 
We envisage that each piece will be performed four times over the final weekend of the fortnight (twice on Friday and twice on Saturday).
At the end of the season two of the successful commissions will be offered additional in-kind space and support to develop the work further. In the interests of reducing barriers and of achieving a plurality of voices and perspectives, at least two commissions will be awarded to artists from under-represented groups or communities, including but not limited to Black and minority ethnic artists (including GRT people), disabled artists, artists from lower socio-economic backgrounds and LGBTQI artists.
Things to consider before submitting your idea.
The performance should require only minimal/simple tech that you can set up and operate yourself in the relevant space – it should not require a stage technician.
There will be a small budget for props, costumes etc. There is no budget for set build. We can configure the space to your requirements, and you can use any items from the venue.
You may rehearse the piece entirely or partly onsite.
There will be an allowance for travel and/or accommodation available if needed.
Spaces available include the bar, the gallery, the Bunker Theatre (or part thereof), a smaller cinema-style theatre space, a large cupboard, a 'cave', a corridor, a large shop window, and a large loading bay with a roller shutter. Or you could take your audience on a short walk… Please see pictures.
Performances can include English and/or Welsh, be bilingual or multilingual, but we will prioritise work that might be enjoyed by a diverse or casual urban audience without specialist knowledge.
Want to meet us and have a look around before you submit an idea? Or have any other questions? Get in touch!
READY TO SUBMIT YOUR IDEA? USE THE FORM HERE.
Small Print
Copyright in the work resides with the commissioned artist.
Volcano may record or photograph the work for marketing, publicity, documentation, and/or reporting purposes.