with David Street and Billy Gannon
For over 30 years Julie Gannon has painted landscapes. Her love for landscape painting was sparked by her holidays along the Welsh and Cornish coastline. She now lives in Pembrokeshire, its rugged and windswept beaches providing inspiration for her paintings.
Julie puts her life-long dedication to the natural down to her upbringing in Warrington. For years she lived on an estate larger than most towns, where ranks of red brick houses marched to the horizon and the only concessions to nature were a grimy park and scraps of wasteland. Completely untutored, she painted her way out of her urban trap, using memories of occasional trips to the countryside as inspiration and plaster board found in skips as canvases…
jcgannonart.com
David Street is an artist living in Pembrokeshire in Southwest Wales. He graduated with a degree in Fine Art from Liverpool John Moores University.He works primarily in Pen and Ink and uses both to create monochrome and black & white drawings.
His drawings explore the beautiful Pembrokeshire Coast. From dramatic windswept beaches, ancient monuments to small harbour towns. 
artbenfro.co.uk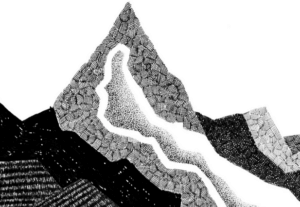 Billy Gannon, the Pembroke Dock Councillor who quit over allegations that he is Banksy, has hit back by making 200 of his "I am NOT Banksy" badges.
Each numbered badge comes with a matching card that declares " If anyone who is NOT Banksy wears a I am NOT Banksy Badge and Banksy is the only person who is NOT wearing a I am NOT Banksy Badge (because they ARE Banksy) then everyone will know that Banksy IS Banksy (because they are NOT wearing a I am NOT Banksy Badge) and, more importantly, Banksy will have finally have found out who they are for him/ her/ themselves".
When it was pointed out to Gannon that for his plan to work everyone in the world who is NOT Banksy would have to wear a badge and that the current world population is more than 7 billion people Gannon replied. "I had planned to make 999 badges, but I may need to make more. Many, many more. This may turn out to be a long-term project"