Connecting Wales with Liberia
WITH MAXSON S. KPAKIO
Saturday August 27th, 5:30pm | Free entry

Spoken word, poems, music and information about the humanitarian work of Wales-Liberia Connect. All welcome.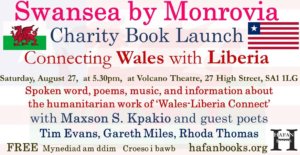 Max Kpakio works in Swansea and Liberia as a journalist, community activist and human rights campaigner. His poems and testimony reflect on struggles for justice and dignity, living with the consequences of polio, and the importance of solidarity.
Featuring
TIM EVANS
GARETH MILES
RHODA THOMAS
and more.
In association with Hafan Books.