Costume Design with Zepur Agopyan
One of our series of FREE taster workshops to develop your creative skills or have a go at something new. They are led by professionals in different fields and will be fun, informal and supportive.
FRIDAY 26 AUGUST 2pm – 4pm
COSTUME DESIGN with ZEPUR AGOPYAN
Zepur is an award-winning costume and set designer and model maker, originally from Australia, based in Swansea. She has designed for performances by Volcano and National Dance Company Wales, and created freelance work.
This workshop will be an introduction into the world of costume as a medium of expression. You'll create a prototype costume using easily accessible materials.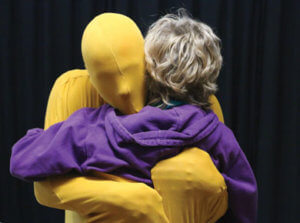 Actor Rick Yale wears a costume designed by Zepur in the Volcano performance Beastly Ongoings – a sensory adventure for children with profound and multiple learning difficulties.
Banner image: Contendo by Zepur.

Email us, REGISTER ONLINE, or call 01792 464790. Or just show up on the day.
A Notes from the Underground project, supported by a Local Journeys for Change grant from IETM.